Our Repertoire
Listen to a sample of The Melbournaires Live!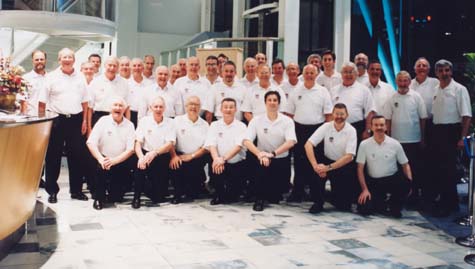 The Melbournaires at ABC Southbank Studio:
The 774 Evening Show with Peter Clark
The list below represents our repertoire - the songs we sing regularly. We will sing any or all of these songs on any given booking or show.
For several of the songs below we have provided an actual recording of our full show chorus rehearsing the song, in rich, four-part harmony. Feel free to have a listen!
Don't forget to contact us for a booking if you like what you hear!
---
A Nightingale Sang in Berkeley Square
Advance Australia Fair
Africa (Morris)
Ain't Misbehavin'
Amazing Grace
Breaking Up Is Hard to Do (Campbell)
California Dreamin'
Crazy Little Thing Called Love
Do You Hear What I Hear?
Dream Lover (Kitzmiller)
Hark! The Herald Angels Sing
How Deep Is the Ocean (Waesche)
MHC at Adelaide Convention:
I Am Australian
I Still Call Australia Home
Demo MP3:
I'll Be Home For Christmas
In My Room
Irish Blessing, The
Demo MP3:
It Is Well with my Soul (Harrington)
Java Jive
Jeanie with the Light Brown Hair
Joy to the World
Let's Get Together Again / Keep the Whole World Singing
Loch Lomond
Lullabye (Goodnight My Angel)
My Wild Irish Rose
This song was written in 1899 by Chauncy Olcott who was one of the most celebrated performers and composers of his day. He performed a s a blackface minstrel and sang tenor in light opera in America and England. But he was most famous for his interpretation of Irish songs in American musical theatre.
O Come, All Ye Faithful
O Holy Night
Only You
Pokarekare Ana (Gentry)
City of Sails Chorus:
Put Your Head On My Shoulder (Dale)
The words and music of this song were composed by Canadian singer/songwriter, Paul Anka, when he was just 18 years old.
Silent Night
Demo MP3:
Tears in Heaven
That'll Be the Day (Gentry)
The Secret of Christmas
Demo MP3:
The Story of the Rose (Heart of My Heart)
Composer of this 1899 song, Andrew Mack, was an Irish tenor and actor in new York City. The lyrics are attributed to "Alice" whose true identity remains a mystery.

The song is known by barbershoppers world-wide and its popularity as a barbershop song was immortalised in the 1926 song "The Gang that Song 'Heart of my Heart'".
We Need a Little Christmas
We'll Meet Again
When I Fall in Love
Who Will Buy?
You'll Never Walk Alone (Nicholas)