Join Us
Want to become a member?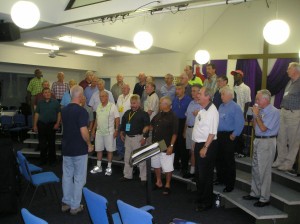 Did you sing in school? Have you sung in a play, choir or community chorale? Isn't that you singing in the shower and in the car on your way to work? Ever dream of singing with a professional quality performance group? Now you can! Since 1995 The Melbournaires has consistently placed amongst the better choruses out of more than 30 choruses in national competition.
We need men between the age of 12 and 80 who enjoy acappella singing (that means no instrumental accompaniment) and would like to lend their voices to strengthen our sound. The beauty of what we do is that an amateur singer can, with a bit of help, lots of practice and a few basic learning aids, become an accomplished member of our chorus.
The Melbournaires invite you to come sing with us at the Ss. Peter & Paul Parish Hall, Leeds St., East Doncaster) in Melbourne. Why not give Robert Turnbull a ring (0417 358 042) or send him an email (enquiries@melbournaires.com) and find out more about visiting a rehearsal?
Please join us for a night of singing, fun and fellowship every Monday night from 7:30 to 10:00 PM.
Meet others who enjoy harmony singing!
Learn about a cappella music!
Join in a song or two!
Make new friends!
See what makes the Melbournaires great as a performing chorus!