Our Repertoire
Listen to a sample of The Melbournaires Live!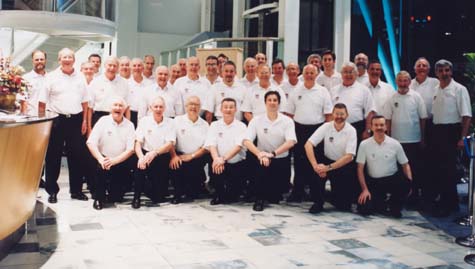 The Melbournaires at ABC Southbank Studio:
The 774 Evening Show with Peter Clark
The list below represents our repertoire - the songs we sing regularly. We will sing any or all of these songs on any given booking or show.
For several of the songs below we have provided an actual recording of our full show chorus rehearsing the song, in rich, four-part harmony. Feel free to have a listen!
Don't forget to contact us for a booking if you like what you hear!
---
Advance Australia Fair
After You've Gone
Ain't Misbehavin'
All the Way
Always
Always Look on the Bright Side of Life
Amazing Grace
Blew By You (parody of Blue Bayou)
Bridge Over Troubled Water (w. piano accompaniment)
Danny Boy
Do You Hear The People Sing?
Do You Hear What I Hear?
Down By the Old Mill Stream
Down Our way
Georgia On My Mind
Hallelujah
Hark! The Herald Angels Sing
Have Yourself a Merry Little Christmas
Heart
Hello Mary Lou
Honey / Little 'Lize Medley
I Still Call Australia Home
I'll Be Home For Christmas
I'm Gonna Sit Right Down and Write Myself a Letter
Irish Blessing, The
It's Only a Paper Moon
Joy to the World
Just in Time
Let Me Call You Sweetheart
Let's Get Together Again / Keep the Whole World Singing
Loch Lomond
Love Me
Masquerade Is Over, The
My Wild Irish Rose
Nature Boy (Gray)
O Come, All Ye Faithful
O Holy Night
On a Wonderful Day Like Today
Shine On Me
Silent Night
Sunny Side Up
Sweet and Lovely
Taking a Chance on Love
The Lion Sleeps Tonight
The Longest Time
The Old Songs
The Secret of Christmas
The Story of the Rose (Heart of My Heart)
The Way You Look Tonight
Till There Was You
Wait Till the Sun Shines, Nellie
Waltzing Matilda
We Need a Little Christmas
We'll Meet Again
When I Fall in Love
Who Will Buy?
You Raise Me Up
You're As Welcome As the Flowers in May