Our Repertoire
Listen to a sample of The Melbournaires Live!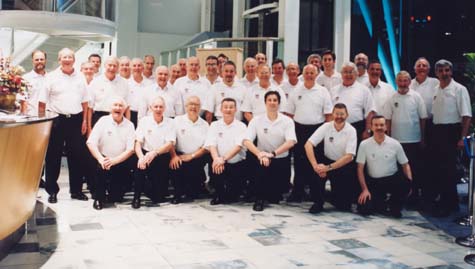 The Melbournaires at ABC Southbank Studio:
The 774 Evening Show with Peter Clark
The list below represents our repertoire - the songs we sing regularly. We will sing any or all of these songs on any given booking or show.
For several of the songs below we have provided an actual recording of our full show chorus rehearsing the song, in rich, four-part harmony. Feel free to have a listen!
Don't forget to contact us for a booking if you like what you hear!
---
Advance Australia Fair
After You've Gone
Ain't Misbehavin'
All the Way
Melbournaires Demo MP3:
All the Way - Masters of Harmony:
Always
Irving Berlin married his first wife in 1912. They honeymooned in Cuba where she contracted typhoid fever. A few months later she died. Irving was heart-broken and threw himself into his work. When he was in his late thirties he met Ellen Mackay. Ellen was in her early twenties, college educated, Catholic, and daughter of a wealthy businessman. The contrast could not have been greater. Irving was many years older than Ellen, had only two years of schooling, was Jewish, and wrote popular music but he was a clever businessman. Ellen's father considered Irving a most unsuitable match for his daughter and, when romance developed, threatened to disinherit her and sent her to Europe to get Irving out of her system. When she returned the romance began again and Irving and Ellen eloped a few months later. As a wedding present, Irving reworked a song that had been in his files for a couple of years expressing in its lyrics his wedding vows. Over the years the song grossed over $300000 in royalties for Ellen.
Amazing Grace
Blew By You (parody of Blue Bayou)
Bridge Over Troubled Water (w. piano accompaniment)
Danny Boy
Our next song is one you all know well, but many of you will not know the story behind it. It tells of a man from the old country who has seen generations of his countrymen answer the call of the bagpipes and march away to a war that never seemed to end. Years ago, two of his sons left the valley to the sound of the pipes, never to return. Now, he's an old man, alone in the world except for his youngest son, his pride and joy, his Danny.
Years have passed since last there was fighting, and he has allowed himself to think that, perhaps, Danny will be spared the horrors of war. But this morning he awoke to the sound he prayed he would never hear again; the pipes.
He watched his son pack his few belongings, and now he stands in the doorway of his cottage and watches as the boy hurries off down the road that leads to the sea. As he watches his last son march away, he knows they will never meet again. And all the while he stands there, the sound of the pipes keeps echoing through his beloved valley... and it's the saddest sound he's ever heard.
Do You Hear The People Sing?
Do You Hear What I Hear?
Down By the Old Mill Stream
The song was written by Tell Taylor in 1910.
His career began when he was invited to join the stage company of Joe Howard, composer of "Hello! My Baby". He became a leading performer, wrote many songs, and became a partner in a Chicago music publishing company.
Down Our way
Georgia On My Mind
Demo MP3:
Get Out and Get Under the Moon
Good Luck Charm (Dale)
Hallelujah
Hark! The Herald Angels Sing
Have Yourself a Merry Little Christmas
Heart
Demo MP3:
Hello Mary Lou
Demo MP3:
Honey / Little 'Lize Medley
I Still Call Australia Home
Demo MP3:
I'll Be Home For Christmas
I'm Gonna Sit Right Down and Write Myself a Letter
Irish Blessing, The
Demo MP3:
Jeanie with the Light Brown Hair
Joy to the World
Just in Time
Let Me Call You Sweetheart
Let's Get Together Again / Keep the Whole World Singing
Loch Lomond
Love Me
Masquerade Is Over, The
Demo MP3:
My Wild Irish Rose
This song was written in 1899 by Chauncy Olcott who was one of the most celebrated performers and composers of his day. He performed a s a blackface minstrel and sang tenor in light opera in America and England. But he was most famous for his interpretation of Irish songs in American musical theatre.
Nature Boy (Gray)
O Come, All Ye Faithful
O Holy Night
On a Wonderful Day Like Today
Shine On Me
Silent Night
Demo MP3:
Sunny Side Up
Sweet and Lovely
Taking a Chance on Love
Demo MP3:
The Lion Sleeps Tonight
This song was composed in 1939 by South African Solomon Linda who based it on a Zulu refrain. The song was picked up by The Weavers, an American group, in 1952 and turned into a top hit. In 1959 it became a hit for the Kingston Trio.
The Longest Time
Demo MP3:
The Old Songs
The Secret of Christmas
Demo MP3:
The Story of the Rose (Heart of My Heart)
Composer of this 1899 song, Andrew Mack, was an Irish tenor and actor in new York City. The lyrics are attributed to "Alice" whose true identity remains a mystery.

The song is known by barbershoppers world-wide and its popularity as a barbershop song was immortalised in the 1926 song "The Gang that Song 'Heart of my Heart'".
The Way You Look Tonight
Till There Was You
Wait Till the Sun Shines, Nellie
Waltzing Matilda
We Need a Little Christmas
We'll Meet Again
When I Fall in Love
Who Will Buy?
You Raise Me Up
You'll Never Walk Alone (Nicholas)
You're As Welcome As the Flowers in May