Package Shows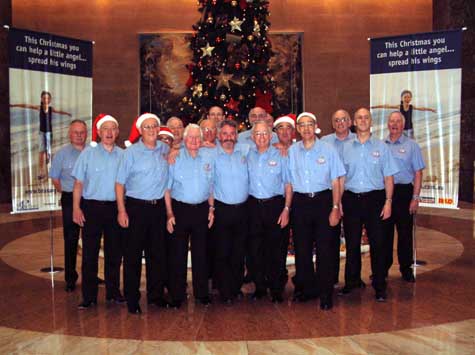 The Melbournaires would be delighted to entertain your convention or organization's event attendees! With a standing repertoire of approximately 30 songs (in several genres) and the flexibility to learn and perform special requests, we offer a variety of menu items to build your performance à la carte within a wide price structure to fit your needs.
The Melbournaires and Melbournaire Quartets have performed at various events, including ones hosted at/by:
Federation Square
The Rugby World Cup 2003
Anglicare Victoria Christmas Appeal Launch
Surrey Hills Festival
Iris Festival at Rainbow, Victoria
ABC 774 Evening Show with Peter Clarke
Royal Melbourne Show
Mitcham Rotary Club
Forest Hill Rotary Club
Salvation Army
To sample The Melbournaires' sound, click here
To book The Melbournaires, please contact our Events Manager, invalid position ID or position not set to Public access.